On Tuesday morning we walked into the kitchen and Ritu was there getting something ready. It was an orangish/yellow mixture that she was combining in a pot. Without looking it up I can tell you that it definitely had turmeric in it, lavender oil, and some sort of flour. When we asked what this was we were told that it's the turmeric paste that we would apply to Manisha's, the bride, skin. For days they had been talking about the gathering that would take place that night. Neighbor women and family were all invited to come and we'd put the paste on and feed Manisha sweets, so that she'd be sweet. The entire day we teased Manisha that she couldn't eat ANYTHING except sweets from the night of the party until the wedding. There was a lot of jesting and laughter, it was fun. In the afternoon the men went to little Pakistan to get the food for the celebration. Over there they believe that the muslims/pakistani make the best foods and so it's a big deal to have it at your celebrations. In the preparation we moved the table out of the way, took all the chairs out of the house and got ready for the party. We would be sitting on the floor so that more people could fit into the house. Manisha wore a Sari the color of turmeric and the rest of us dressed up and made sure everything was ready for the preparation.
Let me tell you what, they know how to put on a party. The guests arrived and we all sat around and sang for a while.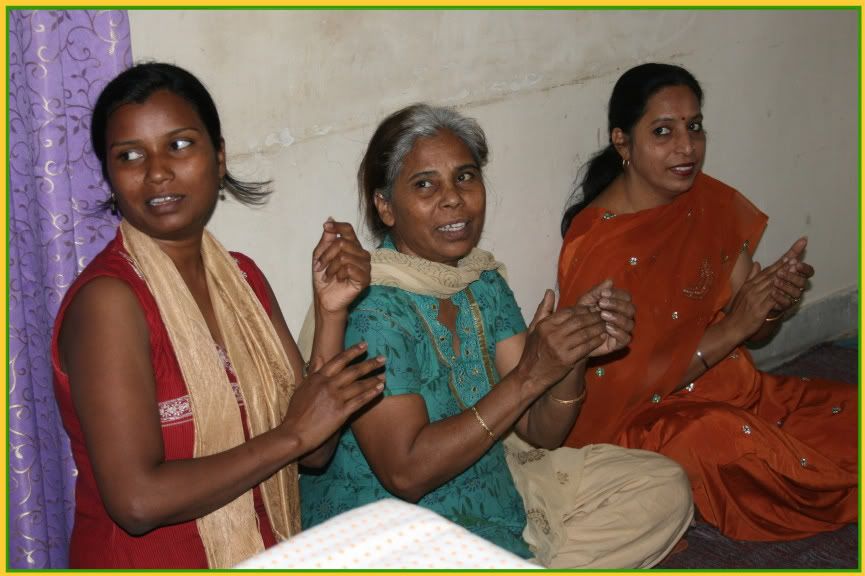 Then they started applying the paste on Manisha, and feeding her sweets. Everyone got a chance to put the scrub on her skin, and when a neighbor walked in they would great the bride, apply the paste, and join the rest of us singing, clapping or talking. They also poured oil on her head, which reminded me of the verse, "You anoint my head with oil." NOW how many of you have memorized Psalm 23 and said that verse? Question number two: how many of you actually put oil on your hair? In india they use mustard oil to make their hair healthy and soft.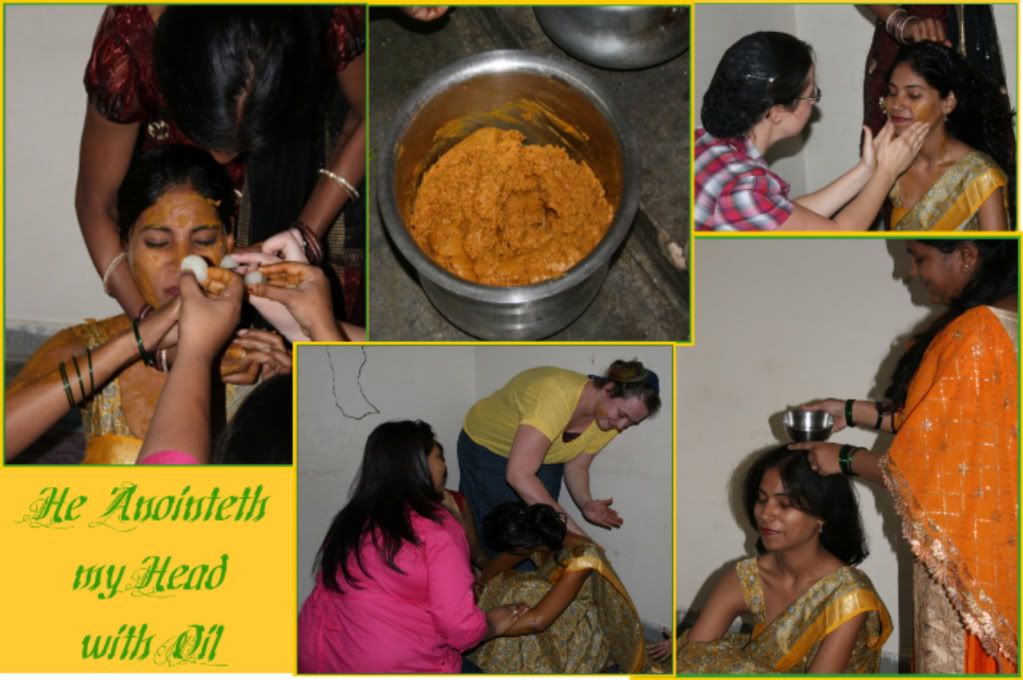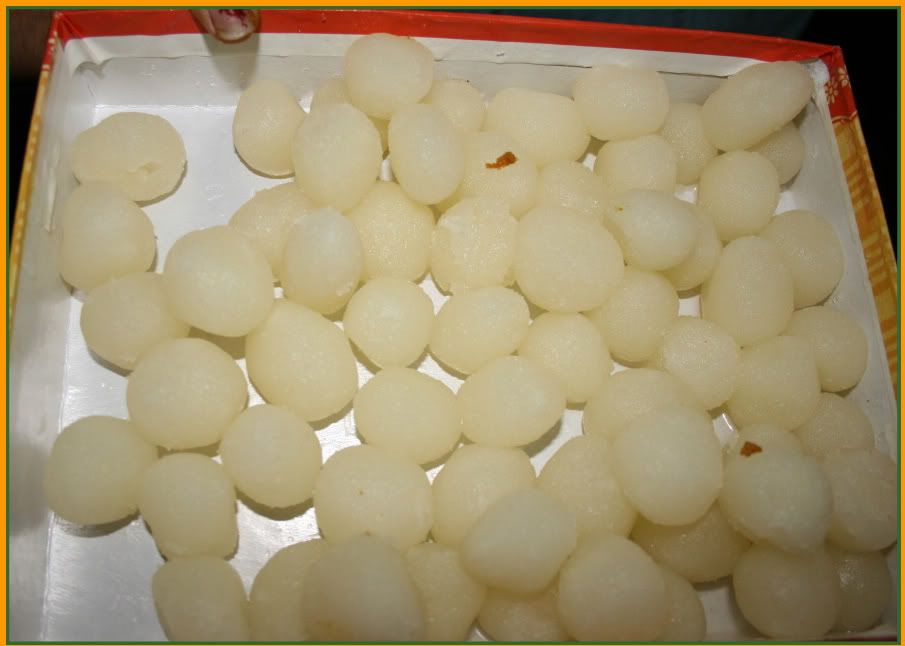 Those were the two things in the bible that really came alive and gave me a realization of what actually might have gone on or what they were talking about in the scriptures.
After the paste started drying on Manisha we took more oil and carefully massaged it into her skin. (that's what I'm doing in the above picture) You had to be careful though because the paste was very abrasive and was causing slight irritation to her skin. The sweets that we fed her were an interesting combination of textures and flavors. They were made up of some sort of meal or coconut that was SOAKED in corn syrup. When you would bite into it the sweetness would ooze out of the dense meal coating your mouth with sugar syrup. Emily really liked them, but I'd have to say they weren't my favorite, and I didn't like how sticky mine fingers were after eating them. Poor Manisha had AT LEAST 6 sweets shoved in her mouth at once! (upper left picture in collage)
Once the traditional singing and preparation was over we the music started and we all started dancing together! It was SO much fun and it made me wish all my cousins and favorite dancing partners were there to join me. They dance in a different style than we do and I noticed that they use their hands and hand movements a lot. My favorite was with the Aunt was dancing with one of the girls and they were all singing... she would sing and the others would respond. It was so extremely festive! Here's a video for you to enjoy!(sorry they're a little blurry, they're still so much fun!)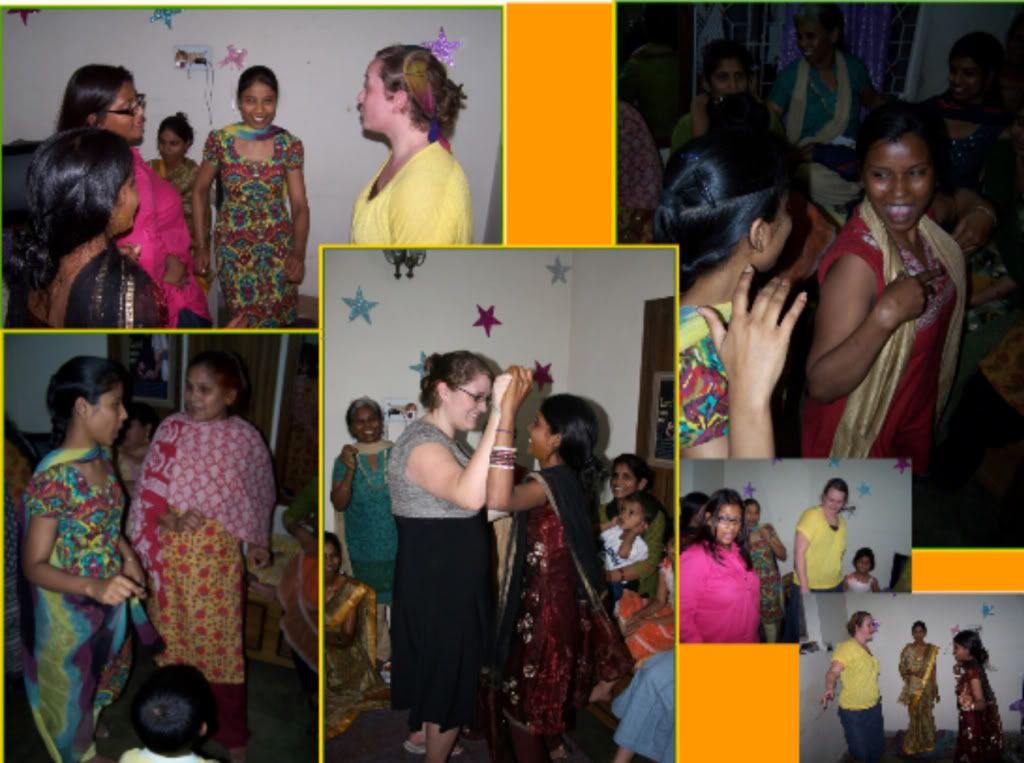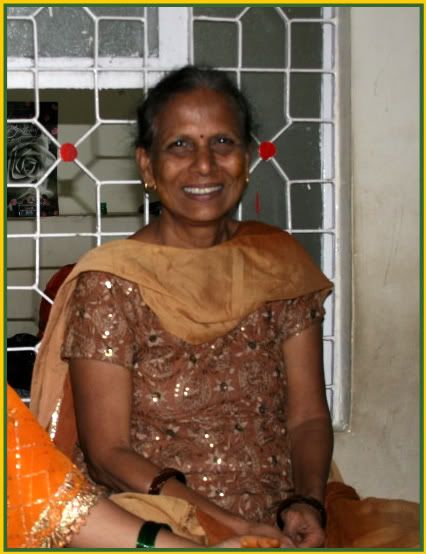 The begging "Auntie", isn't she sweet?
We danced a while and then I told them they should put soldier boy on. A few years ago, at my cousin's wedding, my younger cousin taught me part of the dance. I thought it would be fun to dance for them and teach it to them. It was so much fun and they loved it, however part way through the evening they were begging me to dance it again. This one older lady was especially insistent, she claimed her daughter hadn't seen me dance. I said, no because I was seriously sooo overheated... it was a pretty long dance for someone out of shape, like me. But they continued begging and it got to the point where they told me it would be offensive and disrespectful to my "Auntie" if I didn't dance again. SO yup, you guessed it, I danced again. I did better the second time, I wasn't so rusty on all the moves. The memory makes me smile... She was so cute and after I got done she told me she really liked the crisscross thing I did with my feet it was "very beautiful". WE danced until after 11 and then we ate wonderful spicy chicken, rice, and cheese mixture with our hands.
In all this I gained perspective into a new culture a new way of living and celebrating. I seriously LOVED every minute of it! I long to hear them all sing again, even though I have no idea what they are saying! If I remember correctly they said something about the one song being about a bride getting ready and being ready for her husband.
I know this India trip is taking me a long time to post about but I really want to share my experiences with you! I want to thank
Mardi
for giving me SO much traffic,
Julie
for being a great help, a wonderful blogger friend, and for featuring one of my cheesecakes on her site! I want to encourage you all to check out, my two wonderful twitter friends and most supportive commenters,
BUTTER
and
Stacey
and their creative blogs! I'm still very new at blogging... but I enjoy writing down what I see and think and I look forward to hearing your thoughts and experiences!
Have you ever been to a different wedding with interesting traditions that changed the way you look at the traditional weddings you've been to? I'd love to hear your thoughts!